Apartments
Each accomodation is fully equipped :
A kitchenette with ceramic hob, fridge, dishwasher, microwave, coffee maker, toaster and kettle
A living room with a sofa bed and television
A bathroom with bath or shower
Separate toilets (except in apartments equipped for disabled guests)
Disabled people : Some apartments are accessible to disabled people.
To be noticed : Sleeping in the top bunk is not suitable for children under 6 years. Decree No. 95949 of 25/08/1995.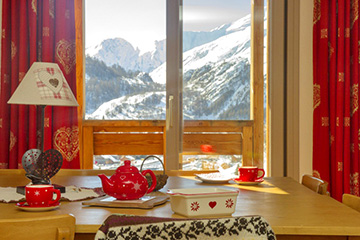 Studio apartment, sleeps 2 about 25m²
Sofa bed in the living room
---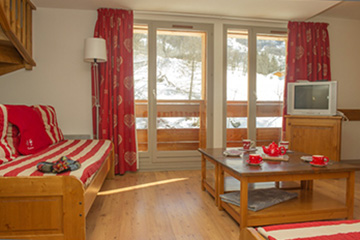 Studio Cabin apartment, sleeps 4 - from 25 to 30 m²
Sofa bed in the living room
Sleeping corner with 2 bunk beds
---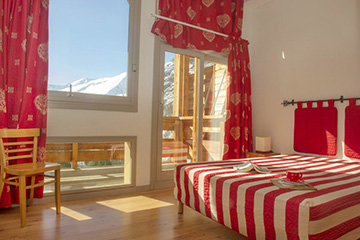 1 bedroom apartment, sleeps 4 - from 32 to 44 m²
Sofa bed in the living room
1 bedroom with 1 double bed
---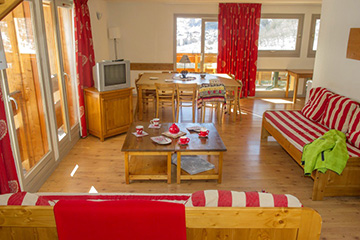 1 bedroom apartment, with cabin, sleeps 6 - about 48 m²
Sofa bed in the living room
Sleeping corner with 2 bunk beds
1 bedroom with 1 double bed
Balcony
---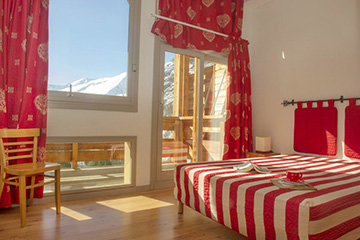 2 bedrooms duplex apartment, sleeps 6 - about 55 m²
Sofa bed in the living room
1 bedroom with 1 double bed
1 bedroom with 2 single beds
A second shower room
In garden level and on 2 levels
---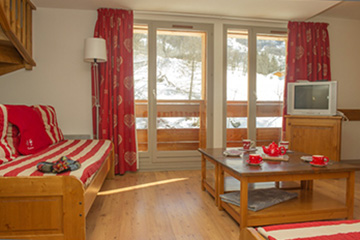 2 bedrooms duplex apartment, sleeps 7 -from 55 to 65 m²
Sofa bed in the living room
1 bedroom with 1 double bed
1 bedroom with 2 single beds
1 cabin with 1 single bed or 1 alcove with 2 bunk beds
Balcony
Apartment on 2 levels
---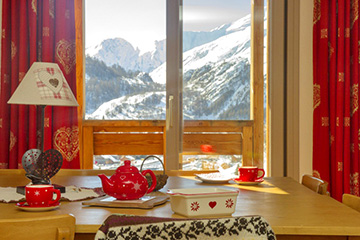 2 bedrooms apartment, with cabin, sleeps 8 - about 50m²
Sofa bed in the living room
2 bedrooms with 1 double bed
1 cabin with 1 single bed or 1 alcove with 2 bunk bedsbr /> A second shower room
Patio or balcony
Apartment on 1 or 2 levels
---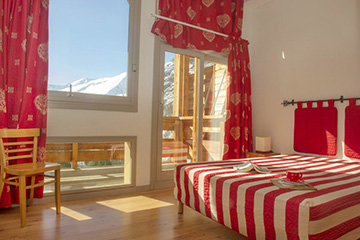 4 bedrooms apartment, or 4 bedrooms duplex apartment sleeps 10 - from 85 to 90 m²
Sofa bed in the living room
2 bedrooms with 1 double bed
1 bedroom with bunk beds
1 bedroom with 2 single beds
OU
Sofa bed in the living room
3 bedrooms with 1 double bed
1 bedroom with 4 single beds
A second shower room
Apartment on 1 or 2 levels
On request (and reservation and paid) and subject to availability, we will have pleasure to complete your accommodation with the baby equipment :
1 baby cot
1 baby chair (from 6 months)